Welcome!
Our practice provides comprehensive pediatric and adolescent care for children from birth through the college years.  Our aim is to foster a personalized relationship with children, adolescents, and their parents, and provide exceptional care throughout a child's and young adult's life.  We are a member of the Pediatric Physicians' Organization at Boston Children's Hospital.  When specialized care is required, we will refer your child to a specialist who we trust, at Children's Hospital or another local institution.
---
Honored and Appreciative!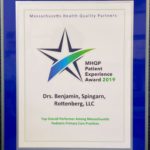 Benjamin, Spingarn, Rottenberg is honored and appreciative of receiving recognition for "Top Overall Performer Among Massachusetts Pediatric Primary Care Practices".
We constantly aim to provide our patients with the best pediatric medical care and we are humbly appreciative of the acknowledgement that you have given us. Thank you!
---
A Word About Urgent Care Centers
We discourage our patients from using Urgent Care Centers or Walk-in clinics without calling us first. While it is true that these centers can be helpful at times, our experience has frequently been that diagnoses are missed, ailments are mistreated with inappropriate medications or dosing, and referrals to emergency rooms and specialists are increased. These centers are typically staffed by physicians or nurse practitioners who are not broadly trained in pediatrics. One of us, or our coverage group, is available 24/7 to help guide you when you, or your child or teenager, has an urgent pediatric medical issue.